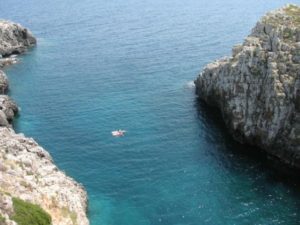 Salento: Italy's Best Kept Secret
I arrived in the seaside village of Otranto in the Salento region of Italy years ago to study Italian at Porta d'Oriente, a school that advertised a half-day sea/half-day study approach to learning. Since then, when I have been away from it, I have dreamed about Salento.
It seems God has blessed this part of Italy with special treasures: turquoise water, rock cliffs, long stretches of natural beaches, and bleached-white buildings that make up the tiny villages that hang over the sea. This is all topped off with a special southern hospitality which its natives lavish on visitors.
I fell in love with the seemingly untouched beauty, the seafood and the spice that was missing in Tuscany. In Salento, I always have the sense that I've traveled back in time to a 1950s Italian movie in which the streets are actually filled with Italians and life is lived in a way that modern Americans believe is impossible.
The region
Salento is located at the tip of the heel of the boot that is Italy in the most southern part of Puglia. But not many people know about Salento, save the southern Italian tourists traveling to its shores every August for centuries.
Many people associate southern Italy, in general, with dirty streets and high crime and think that there's nothing worthwhile to see below Naples. But once you spend time in Salento, you begin to think it's the best part of Italy, despite the fact that it is indietro.
The difficulties of living there are obvious only to the nutcase strani­eri (foreigners) who decide to call Salento home. After dreaming of living there for years, I (aka American Nutcase) decided to transfer to this backward paradise to set up my home base in 2007.
Confronting reality
When on vacation in Salento, it's easy to adjust to its rhythm and let the practicalities of life, like work, drop to the wayside. But living there is different.
I decided to live in the centrally located town of Maglie and found a tiny apartment which was a former cantina, with arched ceilings of stone and a marble staircase leading down to it from the street. I loved its inherent charm, so I didn't realize until I moved in that not only did my cell phone not receive a signal inside but my computer's new Italian wireless card didn't work either.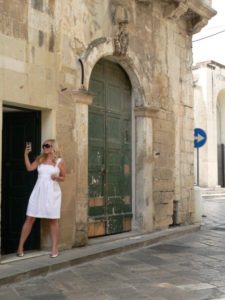 A phone/internet line would take months to install and activate, if it could even be done, so I was left to my own devices when it came to using my computer to access the Web. I immediately started to panic, experiencing withdrawals from my plugged-in life in the States and fearing the worst: complete isolation.
Attempting to be undaunted, I set out on my Metropolitan Lady bicycle every day, my computer in tow. I rode to coffee bars, restaurants and friends' houses and places of business to use my computer and wireless card, much to the amusement and chagrin of the Salentini, who would say, "You are fixated. Stop the computer. Go to the sea!"
Rediscovering paradise
I was at the end of my rope with the constant comments and the nomadic computer life when I met Francesco, a Salentino by birth who worked in Milan and was back in the area on vacation. He understood my pain and helped solve my Internet dilemma with a series of extension cords and wires. He then felt it was his personal responsibility to restore my earlier sense of wonder in Salento.
Finally ready for a break, I agreed, and we hit the road to Otranto. Once we arrived at the port of Otranto, we bought tuna/pepperoncino sandwiches on olive rolls at the corner café for our day-long adventure, then took off on Francesco's boat to Imperial Beach.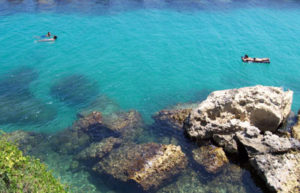 Almost hidden by the large limestone rocks that surround it, Imperial Beach is accessible only by boat and has, perhaps, 15 inhabitants. They had parked their boats 30 meters or so from shore and half-swam, half-waded in, like we did, with our lunch and towels on top of our heads. The water was so completely transparent and the Francesco knew everyone on the beach and they all greeted him with kisses and hugs and handshakes as if it had been a decade since the last time they had met. No, he assured me, it had been only yesterday. But these people, like he, had come to Francesco ex­plained the history of the area as we sat on the sand instead of on our towels, like 5-year-old children, half in and half out of the water, with the gentle waves lapping our legs. We ate our panini and drank cold coffee from plastic bottles that Francesco's beach family smilingly offered us.
Then Francesco led me back into the shallow sea to one of the giant rocks jutting out into the water. He put his hand inside a crack in one of the rocks and came out with what looked like slimy gray mud. He slapped it on his forehead and laughed when I jumped in shock.
He told me that the ancient mud purifies the skin and that, for centuries, people had come to these rocks and slathered on the argilla (mineral clay). I looked around and saw two children rubbing argilla on each other and a group of teenage girls very seriously applying the mud to their thighs and stomachs.
When in Salento do as the Salentini do, so I started to cake it on too. Then we walked slowly back and forth along the white sand in the ankle-deep water until the mud had caked and we could finally dive into the sea, ascending slowly to the sunny surface fully purified.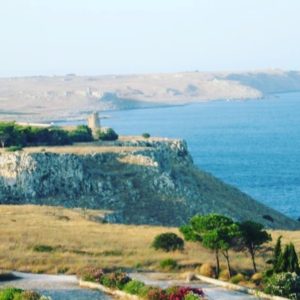 Every day for the rest of the summer, Gianni and I would head out to another part of Salento, to a beach, a museum or a tiny hillside town. We ate pesce crudo every day and never even came close to seeing or doing all the things that were possible there.
A cultural mix
Salento is like no other place in Italy. The little towns on the coast seem like old-fashioned seaside paradises, each with its unique culture and history. Yes, it's Italy, but it also seems to be a bit of Greece, Turkey and what the Salentini call "Porta d'Oriente."
Salento's geographical location was perfect for invaders attacking from the sea, so there are remnants and ruins of lighthouses, bastions surrounding sea towns, castle walls, moats and towers dotting the coastline — reminders of the largely unsuccessful attempts to protect its inhabitants.
Greek is still spoken in some parts of Salento, and the bleached-white buildings stacked on hillsides certainly bring to mind that part of the world.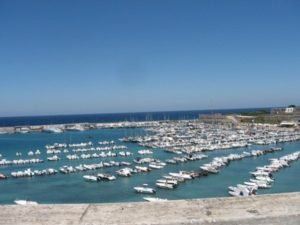 Each invasion and occupation left a mark on the region, creating a melting pot of cultures instead of an homogenous genetic stamp. And because the area is so lightly traveled by outsiders, you really feel that you are the first one to discover it all.
Lesson learned
There was so much to learn about and see here, yet I had been stupidly spending my days toting a computer around tiny Maglie. I had wasted so much time crying about the lack of efficiency that I forgot I had chosen to live in a place that thrives on closing down for five hours in the middle of every day so everyone can go to the sea. I should have joined them.
I went to Salento with all of my American-ness and tried to make it fit me. But Salento doesn't need to change; it needs to hang on to that which makes it unique. It was I who needed to adapt and embrace the rhythm of the place, to sort out what drew me there in the first place: I wanted to understand the sway of life in a place like this, where the original Italian vita bella still exists. Miraculously, once purified, I understood.
By Layne Randolph, International Travel News © 2016 International Travel News. All Rights Reserved.