Jessel Miller is having the time of her life. She has spent decades at the heart and soul of Napa Valley's art world, owning and operating the beloved Jessel Gallery on Atlas Peak Road since 1984. Jessel originally envisioned the former whiskey distillery as a giant gallery promoting her own and other artist's avant-garde work, only to discover that it was not commercially viable in the Napa Valley. She began painting vineyards and landscapes. "Whatever it took to keep a roof over us, and the bills paid," she candidly explains. Over the years, the 6,500 square foot space evolved into an intoxicating mix of gallery-business-studio-teaching facility-Napa Valley landmark.
Jessel is a bit of a Renaissance woman, fitting for an artist who studied her craft in the birthplace of the Renaissance, Florence, Italy. She is an acclaimed artist, the author of six books (a seventh to be released soon), an art and painting instructor, a songwriter, and an accomplished businesswoman.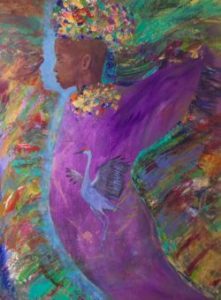 The vast collection of art she has created over the years acts as a map of her personal journey as an artist. Her earliest work shows the dreamlike imagery that reappears later, then a series of exquisite portraits are followed by vibrant, abstract nature paintings and still life works that evoke the atmosphere and emotion of the scenes better than real life.
And then 2020 happened. The global pandemic forced businesses to shut down and for the world to take a breather. The temporary closure of the gallery was like a palate cleanser for Jessel's artistic inspiration. Intuitive and perceptive, she told herself,
"I need to mulch. Something is coming, and I need to step out of the way. Within weeks, I was dragged into the studio at three in the morning, and the art was just coming out of me. It needed to speak," she said.
Her experience as an artist enabled her to express on canvas messages coming through her as their conduit. The result was a veritable explosion of divinely inspired paintings.
Her latest creations are a mixture of fantasy and reality, and her use of dazzling color heightens the Chagall-like allegories that run through these thought-provoking fairy tale images of fish, birds, elephants, and turtles to create the dreamlike imagery of "Jesselism." And then there are the faces—faces abstracted from her exacting skill as a portrait artist—faces reflecting a world of cultures shining through the chaos, floating in a glimmering celestial universe, deftly conveying the titles of her latest collections, "Honored Souls" and "Soulful Voices."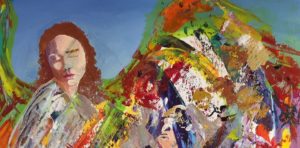 These paintings, although spectacularly beautiful, convey more profound global significance – the silver lining of the pandemic. The world is resting; water is cleaner, the air is purer, animals and fish are thriving in the rejuvenated ecosystem, and the world is spiritually linked.
There has been overwhelming recognition that her illustrious life's work has culminated in this collection of intensely emotional paintings and that her moment is now. When asked if she agreed, the naturally exuberant Jessel exclaimed, "It is now! I can feel it!"
Jessel has dedicated her life to other artists through www.JesselGallery.com, and now, for the first time, she has launched a website devoted solely to her work.
FOR MORE INFORMATION www.JesselGallery.com // www.JesselMiller.com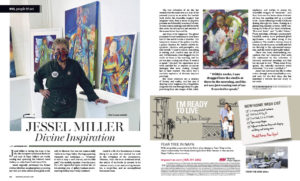 Layne Randolph, "Jessel Miller: Divine Inspiration." Napa Valley Life Magazine, October 2020