Open my heart and you will see engraved inside of it, 'Italy'." –

Robert Browning

When people ask me about my time in Italy, and especially when they want to know where I lived, it's hard to know which part to share. I usually condense it to "all over." I lived so many lives in those ten years that I would have to ramble on and on to summarize it properly. So, here I go…
My first stint lasted two years in the birthplace of the Rennaissance, Florence. I was working remotely as a lawyer for my Colorado law firm, and I traveled around Europe from there, covering at least 20 countries in two years. I made friends with a group of Florentines that included the Ferragamo twins, and I was at their 30th birthday party at their country house, Il Borro, but I always had a group of ex-pat friends constantly rotating as some left and others arrived. That's the life of an ex-pat–you are always saying a lot of goodbyes. But you are also always saying a lot of hellos. Many ex-pats were studying art there, and I got roped into working as a (clothed) portrait model for a while—which was incredibly dull but a once-in-a-lifetime experience.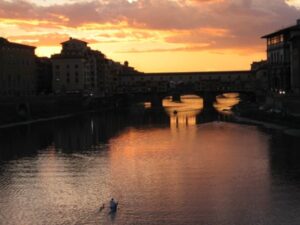 I imagined myself to be a writer all my life, but I went from graduating with a Journalism degree to going to law school because I wanted to make a good living instead of living as a starving writer. But living abroad inspired me to write, so I began contributing to The American Magazine, a new publication at the time, named after the original Dolce Vita-era version and recreated by its founder's son, a former Washington Post journalist. I continued to work for the Colorado firm, but I began telling people I was a writer, and opportunities popped up for me. An American businessman hired me to ghostwrite a book about a lawsuit he was involved in, and I started acting as a stringer to Us Weekly to cover celebrity goings-on in Italy.
While working with them, I went to Lake Como and stayed near George Clooney's home. While staying at the Hotel De Russie in Rome, I met Don Johnson, Don Cheadle, and I received a birthday drink and chat from none other than Bernie Mac. In Rome, I walked the Piazza del Popolo next to George Clooney and his then-girlfriend, and in Sicily, I watched Catherine Zeta-Jones and Brad Pitt film a scene outside Scopello. All the while, I communicated with "snappers" and paparazzi–who know everything–and reported the events back to the mothership. My Italian was getting good.
After spending several unbelievable ferragostas in southern Italy, Puglia, I decided to move there. I loved the slow pace, the sea culture, and it felt like where I had grown up in the Midwest–everyone was so lovely and friendly. And very few people spoke English, so my Italian vastly improved during my time there. I had a few friends in the area, and they helped me find an apartment – a charming former cantina with an arched stone ceiling and a modern bathroom built into the rock. Writing remotely for Italian magazines, I supplemented my time by teaching English to Italian diplomats, business people, and high school students studying for their English certificates.


My friends and I, and later my fidanzato and I, traveled the boot's heel and covered every mile of the peninsula's coast. In the summer, we went out on boats and dined on pesce crudo and Rosato, and we ate the super tasty friselle and tomato salad all year long. Puglia's proper Meditteranean diet was my favorite of all the regions, and I would have lived there forever. But, my fidanzato was transferred to Milan, and I went with him and began working again as an English teacher at local schools and businesses to fill my free time.
I decided that I should work as a lawyer in Italy if I were to continue living there, so I applied to the University of Turin. I studied international intellectual property law in conjunction with the World Intellectual Property Organization in Geneva. My class was a mix of students from developed and developing countries, and the worldview it gave me was priceless.
Through my studies, I won an internship to live in Rome and work for an NGO for three months, and the internship included an apartment that looked out on the Vatican. While working my internship, I became friends with a group of intellectual, worldly, wonderful people, and I fell in love with Rome. I had never loved the city before living there. I thought it was too big and I didn't love their cuisine (still don't).
But living there you understand that the real Rome is hidden from tourists' views. The real Rome vibe was incredible, the history overwhelming, and I felt like I was behind the scenes with the Italians, watching the tourists who would never know what Rome was truly like. When I saw an opening in the Fendi legal department, I applied, and it set my life on a new path; Rome became my home and the city where I lived the longest in my Italian life.
And then there is Sicily, my most recent Italian love. On a trip back to the USA, I met a man whose father had been born in Sicily to the daughter of an infamous bandit, but he had never been there himself and had no desire to go. He asked me to travel there and help him find his family history. This project stretched me intellectually, emotionally, and physically. I found his family in a small hilltown near Corleone and introduced him to his aunts, uncles, and cousins over telephone and video. Finding information about the bandit would prove more difficult, but it increasingly became an obsession for me.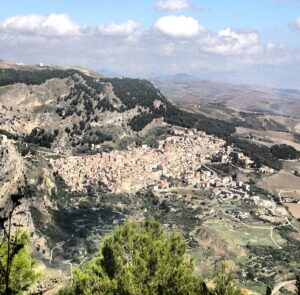 Over the next three years, I would live in Sicily for weeks at a time, while I walked country fields with locals who showed me places where the bandit had hidden, got tours of churches with secret passageways for the bandit's escapes, and translated more books, articles, and videotaped conversations than I thought possible. I tackled Palermo's Archivio di Stato (National Archives)–although even Italian journalists said they were impossible to navigate. Amid 100-year-old, yellowed papers tied with twine, I found the mother lode of information on the bandit, and I knew I was officially a writer.