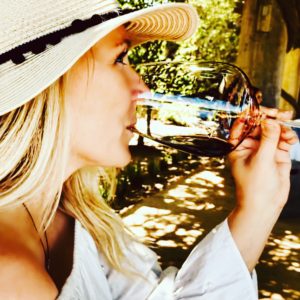 Thanks for stopping by Roma to Sonoma!
I lived in Italy for a decade while I studied at Università di Torino, worked as an attorney for FENDI in Rome, educated lawyers on Fashion Law, and pursued writing as a creative outlet. Now I'm a full-time writer living in Sonoma County. I've supplemented my love of Italy with a newfound love for California.
While I was living abroad, San Francisco and the California wine country were my go-to American vacation spots. Every time I visited, I fell more in love with the fantastic climate, laid-back vibe, and picture-postcard views of vineyards nestled among hills and valleys. This affinity led to my decision to move here post-Italy—the lifestyle punctuated with the clinking of celebratory glasses—that didn't hurt either.
I've traveled to 51 countries and 50 US states, writing about lifestyle, wine, and travel along the way. I've been a ghostwriter, in-house copywriter, Italian-to-English book translator, celebrity reporter, hotel and restaurant reviewer, publicist, travel guidebook writer, and contributor to foreign and domestic newspapers and magazines. All of the writing on this site is my own.
I'm working on my first novel, The Search for Varsalona, based on my search for the true story of a 19th-century Sicilian outlaw. The investigation involved living in Sicily for months and spending long days studying 100-year-old handwritten police records at Palermo's Archivio di Stato. I explored abandoned castles, secret mountain passageways, and cliffside caves with the help of a sweet 95-year-old World War II hero known to everyone as Zio Peppino.
When I'm not searching for bandits or typing away at the computer, I'm being led around wine country by a five-pound rescue dog named Rocco, my self-appointed bodyguard and delicious bundle of love.
Layne Randolph, Roma to Sonoma
LET'S GET STARTED ON YOUR PROJECT
ROMA TO SONOMA AND BACK
By Fabio Ciarla, Cincinnato Winery, Cori, Italy
An incredible path that binds Layne Randolph to Italy, if "the outward journey" saw fashion as the protagonist, "the return" is all oriented towards wine. After a few years of study and work in Turin and Rome, with prestigious assignments for fashion houses of the level of Fendi, Layne decided to return to the US to pursue other career paths, however choosing a landscape that was similar to the Italian hills. So here is Sonoma and the beginning of an adventure in the world of wine that she explains to us in the first answer to our questions. We met her for an insight into the wines of Lazio, and we are really happy to have had this opportunity; such high-level writing is what every territory wants to make itself known!
Layne, your website is called "Roma to Sonoma", so your relationship with our country is very close. Why did you choose this name? How did you start writing about wine? How well do you know the wines of Lazio, Rome, and its surroundings? Did you discover interesting things during your travels?
Italy has a special place in my heart. I lived in Italy for many years, studying Intellectual Property Law at the University of Turin and then working in Rome as a lawyer in the legal department of Fendi. When I moved to Sonoma County, California, I started a new career – that of a writer – and " Roma to Sonoma" was the perfect name for my website and for my business. Sonoma County is on the west side of the Mayacamas Range (Napa Valley is on the east side) and is bordered on the west by the Pacific coast. Thanks to the proximity to the sea and the hills covered with vineyards, Sonoma reminds me of Italy, which is why I decided to live here. Regarding my knowledge of the wines of Lazio, Rome, and its surroundings, I have discovered many interesting things during my travels. I like to share these experiences with my readers.
Immersing myself in the world of wine came naturally after moving to Sonoma and deciding to pursue writing. My first job was as a Copywriter for The Spire Collection, the collectors' division of Jackson Family Wines. Their range includes wines from their estates and vineyards around the world: Tuscany, Bordeaux, South Africa's Western Cape, Australia's McLaren Vale, Napa Valley, and Sonoma County. I learned a lot about wine regions, varietals, and the history of wine – it was like getting a master's degree in wine writing. I wrote a quarterly educational piece on wine-related topics and eventually earned WSET level two accreditation.
The focus on the wine industry expanded from there. Roma to Sonoma's clients include a boutique PR agency that represents wine brands and regional wine associations in California, Washington, Spain, New Zealand, New York, and Portugal. I am a regular contributor to publications such as Wine Enthusiast, AFAR, and Napa Valley Life Magazine and recently received a fellowship with the Wine Writers' Symposium.
Last summer, I visited a dear friend and wine expert in Rome, who introduced me to some local producers – including Cincinnato – and I was blown away. Now that I have been in the wine business for some time, I appreciate wine, and I was intrigued by learning about some lesser-known varietals such as Bellone, Nero Buono, and Cesanese, which led me to write my article on Wine Enthusiast, " In the shadow of Rome, three ancient grape varieties make their return "
In your opinion, how important is the bond of Lazio wines with the history and culture of Rome and its monuments, starting with the Colosseum (near which we have created our Bellone vineyard)?
In my opinion, the bond of Lazio wines with the history and culture of Rome and its monuments, starting with the Colosseum (near which you have created your Bellone vineyard), is very important. The wines of Lazio are less known outside of Italy than those of other Italian wine regions, but their history combined with that of Rome is very fascinating. Stories are a powerful tool to stir emotions around wine.
Rome's iconic history and the revival of native Roman grapes naturally lead one to think of Ancient Rome. The ParCo project is the perfect symbol of this bond and is poetic in its simplicity and depth. The use of Bellone vines (with the connection of Bellone to Pliny the Elder) and the collaboration with Cincinnato (name of the Roman senator Cincinnato) highlights the point: Lazio was and is the hub of the Roman Empire. The wine produced with these native grapes represents history in a glass. Talk about a sense of place!
That said, the wine is the selling point. If the quality were not present, no historical references would matter. However, with native grapes hinting at ancient Rome, the appeal of a lesser-known region establishing itself, and exciting wine being produced at the moment, Lazio has a captivating – and very marketable – history.
If you had to pick one Italian wine or varietal that you would like to see produced in Sonoma, what would it be? Do you think there are any chances of success for native Italian grape varieties outside of Italy?
While the most common wines produced in Sonoma County are Chardonnay, Pinot Noir, Cabernet Sauvignon, Sauvignon Blanc, Zinfandel, and Merlot, there are many other varietals produced here, including some from Italy. Sangiovese and Pinot Grigio are the most common and are usually offered in a larger portfolio of international varietals. Italian immigrants planted Sangiovese in California as early as the late 1800s, and there has always been an Italian connection to Napa and Sonoma; many wineries or winemakers are of Italian descent.
In my hometown of Healdsburg, we have three tasting rooms focused on locally grown Italian varietals. Portalupi Wine produces Vermentino, Sangiovese, Barbera, Nebbiolo and Primitivo. Idlewild Wines specializes in Piedmontese varietals: Nebbiolo, Erbaluce, Favorita, Freisa, Cortese, and Dolcetto.
Aeris Wines is the most recent addition; have recently opened a tasting room offering Sicilian varietals not easily found outside of Italy: Carricante, Nerello Mascalese, and Nerello Cappuccio.
Truthfully, Italian varietals and brands can be a tough sell to tourists who come to California wine country to sample Californian wine. However, wine connoisseurs and wine lovers are always on the lookout for unique wines that only a few educated travelers know about – so I say, yes, there is room for Lazio wine, especially those related to Roman emperors.