If you happen to see Pierre-Emmanuel Taittinger behind a bar pouring his family's almost 300-year-old label's champagne, with a Black River Caviar bar on one side of him and a Hog Island Oyster bar on the other, either you are dreaming, or you are at the first night Welcome Party of the GourmetFest Carmel 2016. The four-day foodie extravaganza featuring an exclusive roster of Relais & Châteaux chefs and the world's best wine estates took place Feb. 25-28, and we're still in recovery mode from the decadent offerings.
Each year, a world-renowned team of wine experts and Relais & Châteaux chefs descend on Carmel-by-the-Sea, transforming the sleepy hamlet into a food lover's and wine aficionado's paradise. GourmetFest celebrated its third year with vineyard tours, cooking demos, wine tastings, sumptuous meals designed for the most discerning palates, and a wild mushroom hunt.
The Relais &Châteaux GourmetFest is not, nor does it try to be, an event for the average food and wine lover. This is where true connoisseurs come to play, where elite wine collectors gather to share their very specialized obsession with like-minded folks such as legendary sommeliers Rajat Parr and Larry Stone.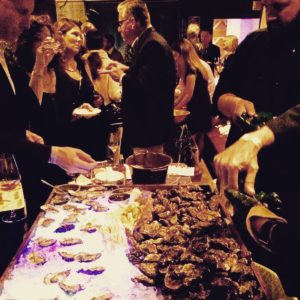 Take Conrad Kenley, for instance, a second-time participant in the GourmetFest Carmel who has already decided to return in 2017. When asked what makes him return year after year, he quickly responds, "Because I know that David Fink will do something really special." Conrad shipped several rare bottles of wine to the event for his own enjoyment. He brought them along not because there wouldn't be enough top caliber wine at the event but because he knew that the select group in attendance would have the proper appreciation for the exclusive vintages. Conrad shared the bottles pictured with old and new friends, sommeliers and chefs, over pizza at a late-night gathering well after the exquisite seven-course meal that evening. This is apparently how the crème-de-la-crème of the wine world roll.
And speaking of the crème de la crème of the wine world, the 2016 event boasted Château LaTour, Domaine Leflaive, Ornellaia, Rochioli, Champagne Taittinger, Domaine Eugénie, Château Grillet, Araujo, Masseto, ROAR Wines, Pisoni Vineyards, Mount Eden Vineyards, Taylor Fladgate, Chappellet, Peay Vineyards, Ayinger, Silvestri Vineyards, Morgan Winery, I. Brand and Family, Georis Wine, Failla Wines, Crocker & Starr Winery, Calera Wine Company, Caraccioli Cellars, Copain Wines, Williams Selyem, Tablas Creek Vineyard, Qupe Wine Cellars, Morning Dew Ranch, Domaine de la Côte, Fink Family Estate Vineyard, Galante Vineyards and Georis Wine.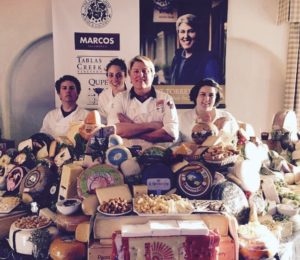 And then there's the food. The GourmetFest attracted celebrated chefs from across the globe, including Loic Leperlier, executive chef of the Point Resort, Mark Lundgaard, chef of Restaurant Kong Hans, Hiroshi Nakamichi and Tomoyuki Kon, chefs from Restaurant Molière, The Little Nell's executive chef Matt Zubrod and chef de cuisine Matt Padilla, David Kinch of Manresa, Twin Farms executive chef Nathan Rich, Les Maisons De Bricourt chefs Olivier Roellinger and Hugo Roellinger, Luciano Sarzi Sartori, chef of Baglioni Hotel Cala Del Porto, Hans Sauter, executive chef of The Post Hotel & Spa, Troisgros chefs César Troisgros and Michel Troisgros, Saison owner/chef Joshua Skenes, Derek Poirier, Ecole du Grand Chocolat Pastry Chef Western USA, Valrhona, Aubergine at L'Auberge Carmel's executive chef Justin Cogley and executive pastry chef Ron Mendoza, and Chris Kajioka, executive chef of Hotel Wailea.
At the GourmetFest Carmel, there's certainly the sense that you've stepped into a decadent secret society of oenophiles and culinary kings, where everyone has known each other for years. It is definitely a clique you'd like to join, even if only for a few days.
Highlights of the four-day fest included a Black Truffle Dinner, a ten-course Rarities Dinner, a Father/Son (Chefs) Lunch, a Vineyard Tour and Lunch with the ROAR Wines and Pisoni Families, a Farmer's Market Lunch, and vertical tastings of Masseto, Rochioli, Taittinger, Château Latour, and the Grand Crus of Domaine Leflaive.
Befitting a top-of-the-line event, the 2016 GourmetFest's major sponsors were BMW, VISA, Gaggenau, Taittinger, and L'Auberge Carmel. An online charity auction of stays at beautiful Relais & Châteaux properties continues through Tuesday, March 1, with proceeds benefitting the Cystic Fibrosis Foundation, the Carmel Chamber of Commerce, and California State University at Monterey Bay.
By Layne Randolph, Haute Living Magazine, 2016